So I thought it had been a while since I'd been serious, but when I examine the letter X, there is only so much I've got to work with. That is topped off by me finally having to pay the piper for thinking I had a free day to NOT do a letter, when in fact I didn't, as tomorrow is a (very Xciting) guest blogger, so Friday is Z... So I am covering X and Y today and the only thing THAT reminds me of is:
XYZ PDQ
: kid speak for examine your zipper pretty darned quick (aka: you're flashing), which as an aspiring nudist, I really never should have minded, but the truth was, when I was in elementary school I HATED sticking out, but I did. You see, I was tall—always one of the tallest—second tallest girl through most of it, and the other one was REALLY tall—she NEVER could have pleaded normal... see, I didn't want any of THAT to rub off. And we were poorish, at least until my dad died (Xplaining how the loss of an income increases sustainability has mostly to do with a lot of beer and some Xpensive toys—whatever the case, my mother made living on social security look EASY after the debt that was my father ceased to be—but I digress). So ANYWAY... being tall... and poor... meant I wore my pants for several months longer than they covered my ankles (possibly the origin of my battle with pants)... or wore hand-me-downs from my cousin Cammi... AND I was tall... (I already stood out). So standing out some MORE by flashing my daffy duck panties (because Looney Tunes put out a series through JC Penneys that I am sure I wore for several years—NEARLY to the point where I gave them up for flashing...) would have been EMBARRASSING—I could prove my Daffy Duck claim but my friend Shelley, who is in the picture with me, would surely be upset—she's much more proper than I am. And in fact I didn't really start flashing on purpose until college, when I decided it was my mission in life to make people calm the heck down over the matter—yes, I sleep naked—you would TOO if you cared about comfort. DEAL WITH IT. Your boyfriend who is lounging in the dorm hallway can deal with it TOO. And so can the 35 friends you invited to the party in your dorm room.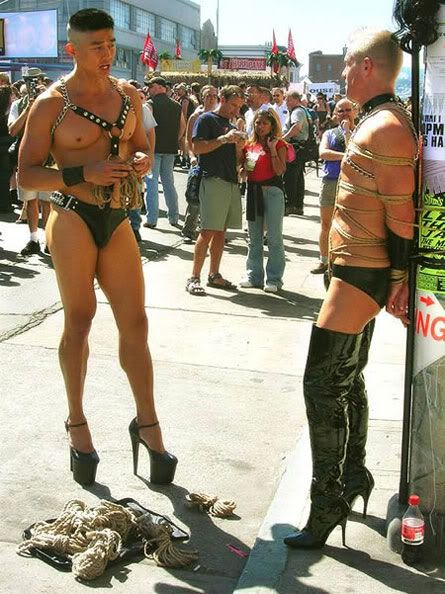 *cough * So I bet you're wondering if I have anything more substantial to talk about than nudity. I DO! My second favorite topic, and the picture is courtesy of my FABULOUS friend Marian—one of the earliest in this networking thing to cross the line from casual networkee to friend... and she KNOWS what I like!
So here we have it...
X-Dressing
that doesn't X the clothing line too badly, because MOSTLY they are just X-Accessorized... (It is also a brilliant example of Lingerie Training, if anyone was wondering how it worked.
Xenophile
And finally I will step into the ring as a die-hard Xenophile. I totally dig things that are REALLY FREAKING strange... Mostly I take dares to try something new, I certainly love to GO new places, no matter HOW strange.
Am I the only parent out there unable, EVERY time I see the letter Y to say:
Y, Y, Y, Y, Yawning Yellow Yak, and Young Yolanda Yorgeson is Yelling on his back!
Though the international Xenophile KNOWS Yorgeson is spelled Jorgeson. Y is really used for Yvonne (my groovy new blogger friend and Ybon, an extraordinary Basque boy I enjoyed the company of briefly when I was 18 *swoons *. Man, he was cute! Why do I need the letter Y to remind me of such things? I suppose because my REAL obsession that year was a W name, who I completely neglected to mention because I really associate him with Greenday—there is a song... it makes sense. YES, that is obtuse... I shared only the most peripheral of connections.
Y Blog?
You know, I've been thinking about this... people seem to have different reasons for themselves, including promoting a book (which is a FABULOUS reason to GUEST blog, but a bit BORING to try to have a daily blog about, with the exceptions of the JOURNEY to getting published, and my friend Helena's JOURNEY to master the skills of her super-spy character (Becoming Layla)--mostly though, there is only so many times any reader will come read about the damn book. Some people blog because they see this as a substitute, since the book isn't out and all—again, I think it's a mistake. This is a tool that will NOT become obsolete just because the book is out. The REAL reason we blog—and your readers will see it if you do it, is to CONNECT. It's so we are no longer alone in the void. Some of us blog to inform, some to entertain, but all of us for whom it will be sustainable, blog to connect to people OUT THERE—other writers, readers, blog browserly types...
So since I am apparently unable to make sense with X or Y, maybe I will go with
YOWZA
!
This is the Johnny of my X-Rated dreams... I think you can see the appeal... carefree, self-indulging, but not in that manic way some people do...My favorite feature of course is the tan line—so tempting... you know they are ALMOST coming off... which is the best way for pants to be aside from ALREADY off.
And then my favorite newish pic is ready to be featured again—I'm just sure of it...