Those of you who have known me may have seen this before, but it is a favorite piece of mine and I thought I'd share it here.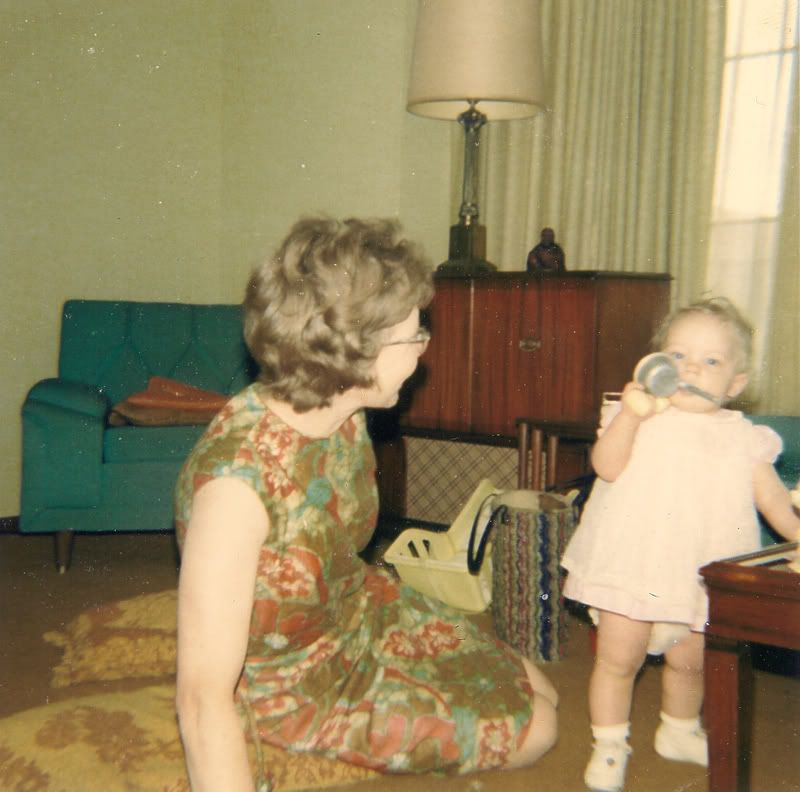 A toddling tart circa 1967... (with the world's best-ever grandma)
The Candy Dish
There's not a time in my memory before my awareness of the dish, yet I feel certain that the first time I dared to ask, it was filled with lemon drops. I asked if I could have one, and of course my grandmother said yes. In forty years with her, I don't remember her ever telling me no. I spent a lot of time with her when I was a child, so Im sure she must have. I also wanted a lot, maximizing the potential for no-worthy occasions, but I can't think of a time when she did. Every visit to her house the dish had a treat, butterscotches in their yellow papers, powdery pink mints, mixed tootsie rolls. The most special ones were the big chocolates with bright, sweet fillings. They weren't there very often. I remember asking why at one point and my grandmother whispered back conspiratorially, "Clay eats too many when we have them." Clay was my grandpa. At family events the dish always felt a bit forbidding. I didn't like to be seen as too greedy, even though I was. My cousins would get scolded by their mom or my grandpa. Grandpa never scolded me because I was the only girl, but his scolding them made me feel guilty. So the candy dish became sort of an intimate symbol. It represented time I had alone with my grandma and the little indulgences we shared. She and I would spend an afternoon playing Blew It (a dice game), or she would iron my coloring projects between two pieces of paper so the wax would melt and be smooth to the touch. When I turned 15 she allowed me to have a glass of wine at family get-togethers; it was always pink. She preferred pretty wine. As I grew up, the indulgences changed in flavor, but never in feel. I always entered a haven in her home where no trouble could touch me. When my parents became embarrassing necessities, I still adored my grandma. When I needed an escape with no questions asked, I could flee to her house, climb her willow tree, dig in the trunks of old fashioned clothes, talk or be quiet as I needed. But I was always safe and loved. My grandmother had a very special gift of making people just feel good. It was nice to be in my own skin when I was near her. She told me I was the prettiest, or the smartest, or the nicest. Whatever the insecurity, grandma could convince me it was unfounded. My grandfather was extremely handsome as a young man, yet I learned at his funeral that it was my cute, perky, somewhat feisty grandmother who had had half a dozen suitors as World War 2 was ending. She was an optimist about everything. It always drove my mother, the pragmatist, crazy. Yet I can't think of a person I'd rather be like. I want to see the world through eyes in which my loved ones can do no wrong. I want to believe in the good things and show resilience when it doesn't quite work out that way. I want to be funny and charming and fiercely loyal. I moved across the country several years ago for mostly educational reasons, though I still havent gotten back to school. The biggest price was leaving family behind. My mother and I can stay caught up by phone ands email, but I miss family gatherings. I miss a glass of wine with my grandma and a piece of candy from the dish. My grandmother remarried after my grandpa died and traveled for a few years, but by the time I had settled into a house, her husband had Alzheimers. They only got out to see us once. Last summer, a year after Grandma lost Ray, my mom began to talk about grandma not doing so well. She had a few falls; she spent a lot of time in hospitals and physical therapy. I didnt know what to believe. To my mother the sky is always falling, or so it seems to the more optimistic members of our family. I wanted to believe she was wrong. Yet I scheduled a trip home for Christmas and as it approached I feared my family might not get there in time. My mom talked of confusion and failing this and failing that. She told me clearly that the doctors had said grandma wouldnt recover. Her liver was failing. Two days after Christmas my kids and I boarded the plane. We de-boarded in Spokane and were picked up by my parents. The next day my cousin and his family came to my moms. My cousin and his own mom had been feuding, but hed gotten the same message I had, grandma doesn't have much longer. My kids and his stayed with my mom and his wife. My two cousins and I drove to Troy where my grandma was staying with my aunt, the estranged mother of the one cousin. We said our hellos and went back in the back bedroom where a makeshift hospital room had been set up. My grandma was thin and frail, but her eyes lit up and she smiled so big. She was sitting up and wearing a lavender sweat suit and it was so hard to believe she was so sick. We all hugged her and visited. We each got some time alone with her. The last thing she said was that she wanted for my cousin and his mom to make peace. She said it only to me. She still believed I could do anything. When they cool off I will make sure they know. We all owe her that. That day was my grandmother's last day of consciousness. I will believe forever that she waited to say good-bye to me. She hung on for three days after that, technically. We sat with her and talked and held her hands, but her last big effort was to see my cousins and I when she was fully alert. A few days later my mom was insistent that we go to grandmas apartment and that I put my name on a few things to remember grandma by. I am the only one so far away that I would not be back later. I felt funny about it; my mom has three siblings and all four of them I felt should have first dibs. But I wrote a note saying that they were all welcome to bump me if they also felt attached to anything I put notes on. I got a table cloth, a picture book of the Pacific Northwest, a crystal bowl, and several tea cups. And I also got the candy dish. It arrived this week. I put it on a set of shelves in our main room. I put fancy hard toffees in it because they are an indulgent candy to me. I might even buy a bottle of pink wine this weekend. Every time I see the dish I will think of my grandma.